Exiland Backup is a simple and powerful file backup and folders sync software
This is the standard PC version of Exiland Backup for backing up files on local disks, over the network, or using FTP (SFTP, SSH) protocols, as well as for synchronizing files between PCs and various devices. It supports all types of drives and allows you to archive files in ZIP, 7-Zip, encrypt, and save backups to network and removable drives, or NAS storages. Exiland Backup provides full control over the creation of backups.
Download and configure the program to automatically backup your working documents, projects, settings, and photos to protect them from viruses, PC malfunctions, accidental changes or deletions. All you need is to create a backup job once, specifying which files and folders you want to back up, specify the folder for saving backups, and set up a schedule. That's all. No further action is required from you.
If you lose your files, you can quickly restore them from a backup!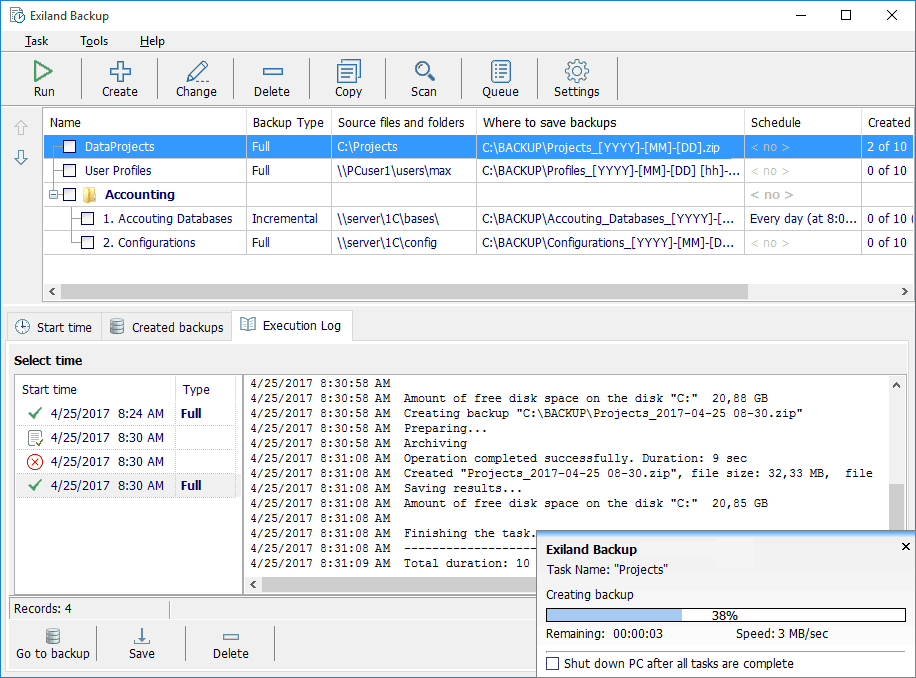 Screenshot of Exiland Backup Standard
Program:
Exiland Backup Standard
Version:
6.5
Last Updated:

Update, Version History
User Interface:
English, German, French, Turkish, Ukrainian, Russian, Polish, Chinese, Hungarian, Italian
Operating System:
Windows [All]
File Size:
12.8 MB
Price:
$35 (

Perpetual License

)
Terms of Use:
License Agreement
Key Features
Four backup types: full backup, incremental backup, differential backup, and file synchronization (update backup)
Backup of any data: local or network files and folders, FTP/SFTP data
Standard ZIP, 7-Zip compression, AES-256 encryption, password protection
Zip64 technology support. This allows creation of ZIP files larger than 4 GB
Automatically move files from one folder to another
Built-in flexible scheduler for automated backups
Ability to run jobs on PC start/shutdown, on connecting USB device or run jobs from Windows command line
Automatic deleting the oldest backups
Multi-threading files copying
Running of third-party programs or commands before/after the execution of a backup job
E-mail notification
Full control over backup creation
Fast file recovery in case of loss
High quality technical support
Demo version limitation
The demo version of Exiland Backup Standard has the following limitation: job scheduling is not available and you can run jobs only manually, by clicking the "Run" button in the program. In all other aspects, the demo version is fully functional. The trial period is 30 days. To be able to complete backup jobs automatically, (job scheduling), you should purchase the full version.
As a rule, using a demo version allows you to evaluate the program. Exiland Backup was created in 2005 and since then it demonstrated stability and reliability.
The price of the full version of Exiland Backup Standard is quite low and includes the perpetual license. We recommend that you try the demo version before purchasing the full version. If you decide to purchase it, all the settings will be saved automatically and become available in the full version.
Benefits of the full version
No limitations
Unlimited time license (Perpetual license)
Priority technical support
Access to the personal account on the program website (keys, instructions)
How to download and install Exiland Backup Standard
Demo Version
You can download the demo version. The size of program installer is small. Installation of Exiland Backup is quite a simple procedure and does not require any special knowledge. You can also download the portable version that does not require installation on PC.
Full Version
The full version is not available for downloading. After purchasing a license, you will get access to your personal account on the program's website, where you will find links for downloading the full version of Exiland Backup Professional and all the necessary instructions.
Competitive Advantages of Exiland Backup Standard
Exiland Backup is a powerful backup tool, but at the same time it is an easy-to-use, flexible, and fast tool. Although the program uses quite complex algorithms, its interface is simple and user-friendly with "nothing in excess".
Exiland Backup allows you to copy files faster than other backup utilities due to multi-threaded copying.
In the earliest versions of the program, various problems related to long paths and Unicode characters were solved.
Exiland Backup is a cost-effective way to back up your data. Caring technical support is also an advantage for our customers.