Exiland Backup is a powerful yet easy-to-use tool for backing up your important files.
Download and configure Exiland Backup to automatically backing up your important files, home photos, videos, work files, and documents. Run Exiland Backup to protect your files from any threats (virus infection, disk crash, system failure, unwanted changes, and so forth).
Exiland Backup does not have advertizing and any unnecessary features; it is an easy-to-use, fast, simple, and at the same time very powerful utility. You only need to create a task once, select the files and folders to be backed up, specify where to store the backups, and set up a schedule. That's it! No more action is required from you!
If you lose files, you can quickly restore the lost files from a backup to the specified folder or to their original location.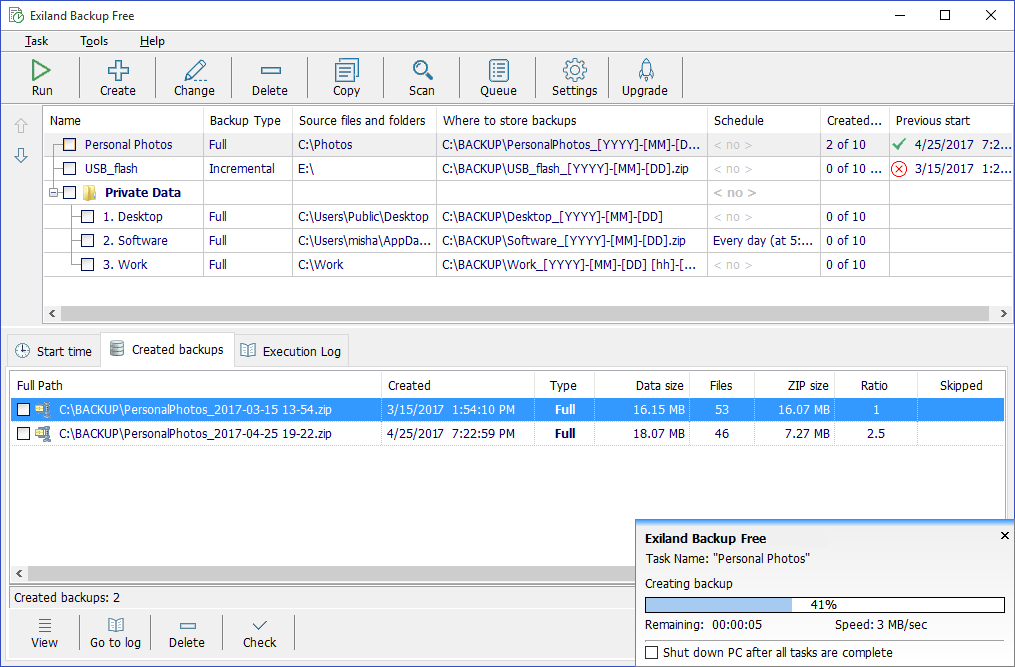 Main window of Exiland Backup utility
Program:
Exiland Backup
Version:
5.0
Last Updated:
Deprecated and no longer supported. We suggest that you use the Standard version 6.5
Update, Version History
User Interface:
English, German, Turkish, Ukrainian, Russian, Polish, Chinese, French, Hungarian
Operating System:
Windows 10,8,7,XP
File Size:
12.8 MB
Price:
--
Terms of Use:
License Agreement
Key features of Exiland Backup Standard
Automatic backup of files on schedule
Four methods of backing up the data: Full, Differential, Incremental, and Synchronization of folders
Backup of all or only modified files
Support of any data sources: USB flash drive, local and network drives, or NAS, FTP, and SSH servers
Compression as in the standard ZIP format
Logging of all backup operations
Ability to restore files from a backup
Automatic duplication of backups to other disks/servers
Automatic deletion of the oldest backups
Multi-threaded copying
Program works in background as Windows service
Copy files from many computers in local network
Flexible ZIP settings (encryption, compression level, splitting archive, and etc.)
SFTP (SSH File transfer Protocol)
Protection of the program by password
E-mail Notification
Job queue management
Exiland Backup demo limitations
Jobs can only be started manually by a button in the program (there is no way to run on a schedule)
Trial period: 30 days
How to download and install Exiland Backup Demo?
You can download the latest version of Exiland Backup on the download page. The program file size is about 5 MB. You can select a type of download: Typical installation (i.e. setup.exe) or Portable (installation is not required).
Typical installation:
The ZIP archive you downloaded contains the executable setup (i.e."setup.exe") file. Double-click it and follow the installation instructions. By default, the backup utility will be installed to the following location: "C:\Exiland Backup Standard", but you can select another location if needed.
Portable (does not require installation):
The ZIP archive contains the program files that you can unpack to any folder on your disk and then, you can run the "ExilandBackup.exe" file.
Advantages of Exiland Backup over analogs
We created an easy-to-use software for backing up files, that can be used by both system administrators and inexperienced PC users.
With low memory requirements, the Exiland Backup Standard utility has enough functionality to create backups on schedule. The utility does not contain advertising.
Unlike many similar backup programs, Exiland Backup gives you full control over the creation of backups. Detailed log allows you to see any problem and provides information on solving it. Also, the program notifies you about the job execution results.
The issues with paths longer than 259 characters and unicode characters were solved in the 4.2 version of the program.